Thu., Nov. 1, 2012, 8:16 a.m.
Trib: Rumor Mill Worse Than Truth
By the time Education Voters of Idaho disclosed where it got $641,000 to promote the Luna laws Wednesday, there was more curiosity than alarm. Idahoans had expected far more nefarious characters behind that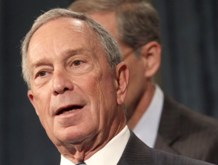 donation than people such as Albertsons heir Joe Scott, who has ties to on-line instruction provider K12 Inc., and New York Mayor Michael Bloomberg. Scott gave $250,000. Bloomberg gave $200,000. They had expected the source of EVI's bankroll to be someone who stood to profit from the Luna laws. Someone such as the owners of Hewlett-Packard, which just signed an eight-year, $182 million contract to provide laptops to Idaho's high school students. Equipping students with laptops is a central feature of the Luna laws, which face a referendum vote Tuesday. If the measures are rejected, HP's contract disappears.Now where would Idahoans get such a jaded notion?/Marty Trillhaase, Lewiston Tribune. More here. (AP file photo of New York Mayor Michael Bloomberg)
Question: Did you expect the forced financial disclosure of contributors by Education Voters of Idaho to be worse than it was?
---
---