Fri., Nov. 2, 2012, 11:44 a.m.
Thom Making Do In New York City
Thom George, a former Kootenai County Democratic Party chairman, has moved to New York City -- and is trying to cope with Hurricane Sandy. His Facebook report re: conditions is published here with his permission:
"Another evening finds me trudging north in search of electricity to recharge my laptop and cellphone, luckily I know a woman who has a shop... Latest word is they think we'll have power back on Saturday -- 3 days down,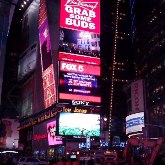 2 to go, but no promises. I threw out everything that had been in the refrigerator and freezer, today, so the search for food will intensify. (It's not like we're in danger of starving, we just have to travel north of 30th Street and find a store that has supplies left, or eat at a street cart. Hot dogs have risen from $1.50 pre-Sandy to $3 as of today). We are very grateful for water and a gas stove as we've been able heat water for washing; we are on the 3rd floor, the last floor in our 18 story building that has water. Buses are running (and still not charging) although they are very crowded. Subways are to resume and expanded schedule tomorrow, but they still can't travel south of 34th Street owing to the lack of electricity. There have only been to reports of burglary since Sandy hit, so I know NYC has changed since I left in '87, back then they'd be on a 3 day looting binge!" (Thom sez of his photo, inset: "Hard to believe there's no electricity 11 blocks south")
Question: What have you heard from friends and relatives on the northeast coast?
---
---