Mon., Nov. 5, 2012, 8:24 a.m.
Clark: Say It Ain't So, Clark Kent
I probably don't have to tell you that the newspaper industry hasn't exactly been in a super-duper period of late.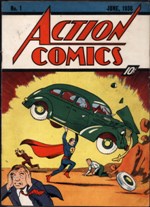 The layoffs, the cutbacks, the revocation of my parking pass … A sad situation, indeed. Yet despite all the gloom, I've tried to maintain the pie-eyed belief that my noble profession would somehow survive. Or at least a few more years so I can retire and maybe parlay my literary skills into a meaningful career, like writing parking tickets. But all hope left me the other day when the unthinkable news broke. Clark Kent quit his job at the Daily Planet. Aw, say it ain't so/Doug Clark, SR. More here.
Question: Which comic book superhero is your favorite?
---
---