Tue., Nov. 6, 2012, 11:28 a.m.
End Notes: Miss Voting At Polls
On her End Notes blog, Rebecca Nappi/SR, who lives in Spokane, writes today: "I felt stirring of sadness and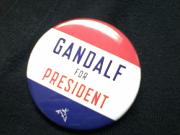 grief today walking by two polling places in Chicago where I am living for three months on sabbatical. There were lines of people waiting to vote. The sun was out, though it was chilly, and people were chatting each other up. They looked happy. I was able to vote when I was home in October for a week. By mail. I loved the convenience, of course. But the tug toward the old way was strong this morning, plus seeing all the "I voted" stickers on people's lapels." More here.
DFO: Although I want to see Idaho go to vote-by-mail, like Oregon and Washington, I thoroughly enjoy going to the polls, hearing a precinct worker proclaim, "Dave Oliveria has voted" and getting a sticker saying "I voted" -- one of which I'm wearing at the moment.
Question: Why do/don't you like voting at the polls?
---
---