Tue., Nov. 6, 2012, 7:57 a.m.
Idaho, Washington Poor Bellwethers
There was a time in the mid-20th century when, as Washington and Idaho went in presidential elections, so went the country. But voters in the two states have been imperfect bellwethers before and since. Spokane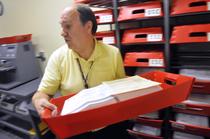 County voters have been a little better. They've voted for the candidate who eventually won the Electoral College count in 25 of the 30 presidential elections since Washington and Idaho became states. Kootenai County voters picked 22 out of 30, but have the longer winning streak, voting for the presidential winner in every election from 1916 to 1972. As new states for the 1892 election, neither Washington nor Idaho selected Democrat Grover Cleveland in his return to the White House after he'd been out of office for a term/Jim Camden, SR. More here. (Jesse Tinsley's SR photo: Spokane County elections worker Ralph Gruss grabs another tray of ballots to be put through counting machines at the elections office on Monday)
Question: Will Idaho pick the eventual president tonight?
---
---