Tue., Nov. 6, 2012, 5:29 p.m.
Obama Projected To Win Re-election
Republican presidential candidate and former Massachusetts Gov. Mitt Romney embraces Republican vice presidential candidate, Rep. Paul Ryan, R-Wis., as Ann Romney and Janna Ryan embrace after Romney conceded the race during his election night rally tonight in Boston. (AP Photo/Mary Altaffer)
President Obama has been projected to win reelection by several networks. The president was able to secure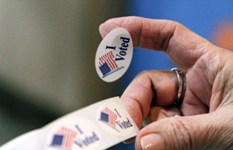 re-election by winning the pivotal swing state of Ohio and its 18 electoral votes. NBC, Fox and CNN all projected Obama had won a second term after 11 p.m. The news was greeted with cheers in Chicago, the site of Obama's campaign headquarters. Obama earlier in the evening had rolled up victories in Wisconsin, Pennsylvania, Michigan and New Hampshire, narrowing Republican Mitt Romney's path to 270 electoral votes/Amie Parnes, The Hill. (AP photo from Mississippi precinct)
DFO: Let's use this post to discuss the 2012 presidential race.
---
---