Wed., Nov. 7, 2012, 8:18 a.m.
DeePee: Praising Of Election Workers
DeePee: Well, the vinyl is spinning (I scored a fine Benny Goodman collection over the weekend) and the feathers beckon. The angst is over. But, please, one final comment. A huge thank-you to the splendid people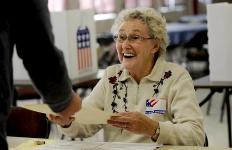 in our little town who watch over, and facilitate the process of voting. Here in Walrus, at the United Church of Christ polling place where I have voted for a decade or so, it is staffed by mostly ladies of the Maxine generation, who smile and welcome you by name when you walk in. They even bring home-baked cookies and brownies and such, I will not name names, because I don't know them all, but there they are, every two and four years, and you get a sense of family just being there and doing your civic duty in a democracy. So please, DF and the rest of you partisan honyocks (including moi), a shout-out for the kind people who donate hours of their personal time to help us do our jobs as citizens of a democracy. (SR photo)
Question: Did things run smoothly at your polling place Tuesday?
---
---