Thu., Nov. 8, 2012, 12:01 p.m.
12YO's Fund-Raising Takes Wing
It started a couple of years ago with a school project. Justin Peterson, now 12, interviewed 10 World War II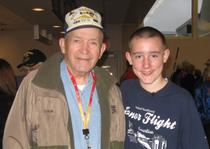 veterans in his Chewelah, Wash., hometown. "I like learning about history," he said. But after hearing their gripping stories, he wanted to do more than just a school project – he wanted to make a difference in the lives of local veterans. Peterson decided to raise enough money to send a WWII veteran on an Honor Flight. Inland Northwest Honor Flight takes local war veterans to Washington, D.C., to visit memorials honoring their service and sacrifice. Last week Peterson's fundraising efforts were recognized with the Safeco Community Hero award, resulting in a total of $15,000 for Inland Northwest Honor Flight/Cindy Hval, SR. More here. (SR photo: Justin Peterson, 12, is shown with veteran Erick Erickson of Quincy, Wash.)
Question: Have you ever been part of a fund raising effort?
---
---