Thu., Nov. 8, 2012, 4:40 p.m.
CdA Needs To Certify Dike Road
The KEA Blog reports today: "The City of Coeur d'Alene recently received a letter from the Army Corps of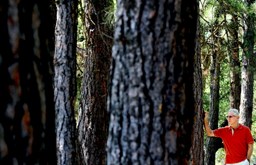 Engineers stating, "the levee certification (evaluation) letter provided to the Federal Emergency Response Agency (FEMA) and the City in July 2007 for the Coeur D'Alene Flood Control Project will be considered invalid by the US Army Corps of Engineers (USACE) on August 31, 2013." The post goes on to explain: "With the Army Corps no longer in the levee certifying business, many communities will be left struggling to afford private certification. The City of Coeur d'Alene must hire a private Architect-Engineering firm to perform the levee evaluation in accordance with FEMA's requirements." More here. (SR file photo: Kathy Plonka)
Question: Have you hugged a Dike Road tree lately?
---
---