Thu., Nov. 8, 2012, 1:13 p.m.
GOP: Too Old, Too White, Too Male
Ken Doctor of the Nieman Journalism Lab writes: The pictures told much of the story. As the networks beamed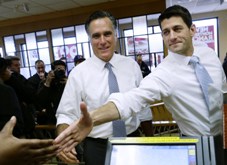 in live coverage of Barack Obama's and Mitt Romney's gatherings on election nights, their anchors made similar observations — some gingerly, some more prominently. The Romney crowd was overwhelmingly white and older. The Obama crowd was mixed in color and younger in age. The presidential vote bore out the videography. The numbers picked off the assembly line of news stories have been astoundingly, and properly, reflective of the new state of America (all data via CNN):
Among women: +11 Obama, 55-44.
Among men: +7 Romney, 52-45.
Among Latinos: +44 Obama, 71-27.
Among Asian-Americans: +47 Obama, 73-26.
Among whites: +20 Romney, 59-39.
Among 18-24 year-olds: +24 Obama, 60-36.
More here (Inset AP file photo: Republican prez candidate Mitt Romney & running mate Paul Ryan)
Question: How should the GOP change to keep up with the changing face of America?
---
---