Thu., Nov. 8, 2012, 9:03 a.m.
Idaho & Idaho State Football
Both Athletic Directors, Idaho's Rob Spear and ISU's Jeff Tingey, need to take media training refresher courses. When confronted by a crisis the first rule is to gather the facts quickly, then go public with the bad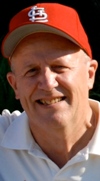 news because that allows you to frame the matter. So, Jeff sits on the Coach Kramer shoving incident for a good two weeks, creating the impression he was hoping it would go away and the university could deal with it as a private personnel matter. ... Rob Spear, his hands tied by President Duane Nellis and advisers, all of whom defer too often to the lawyers, has been bobbing and weaving not being allowed to tell the full story yet about why Coach Robb Akey was let go in the middle of the football season. Its become apparent that when Rob got the news Idaho's talented quarterback had failed a drug test for the third time this season (according to the Spokesman-Review) he had to deliver on a probable ultimatum he'd made earlier to Coach Akey/Chris Carlson, Carlson Chronicles, St. Maries Gazette-Record. More here.
Question: Do you think we really know the whole story behind the firing of UI football coach Robb Akey?
---
---