Thu., Nov. 8, 2012, 8:16 a.m.
Now Luna Wants To Talk To All Sides
After Idaho voters decisively rejected the Students Come First school reform laws on Tuesday, leaders on both sides were calling Wednesday for a new start on education reform. ... Luna, the author of the reform laws, said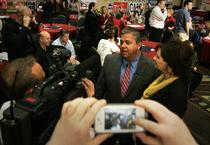 Wednesday in a statement that his proposed reforms were "critical," from rolling back teachers' collective bargaining rights to instituting merit pay and technology upgrades in Idaho classrooms. "I do not believe any Idahoan wants to go back to the status quo system we had two years ago," Luna said. But Idaho Gov. Butch Otter said he and Luna are ready to talk. Otter said he'd already been in touch with legislative leaders about getting that started. "We're prepared to sit down and find a path forward with all of the stakeholders," he said/Betsy Russell, Eye on Boise. More here. (AP photo)
Question: I still think the best start to possible education reform in Idaho would be Tom Luna's resignation as state superintendent of schools. How about you?
---
---