Thu., Nov. 8, 2012, 8:23 a.m.
Wolfinger Ready To Become Sheriff
Wednesday's final ballot counts marked both a stark victory and a clear failure in the Kootenai County races.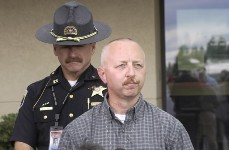 Residents voted overwhelmingly for Ben Wolfinger to take up the sheriff's badge, while they also shot down the proposal for an alternative form of county government. Wolfinger easily took the four-way sheriff's race with 72 percent of the votes, or 39,707 votes. Currently major at the sheriff's department, Wolfinger was pleased with the victory on Wednesday. "The numbers turned out well," said Wolfinger, who has served in all of the agency's departments over the past 30 years. "We're looking forward to moving forward come January." Wolfinger, who will serve a 4-year term as sheriff, has no plans to immediately tweak the agency of 300 employees, he said/Alecia Warren, Coeur d'Alene Press. More here. (SR file photo: Ben Wolfinger)
Question: Can anyone name the sheriff before Pierce Clegg?
---
---