FRIDAY, NOV. 9, 2012, 11:21 A.M.
Carlson: LBJ, Church & AWOL Ballots
At first glance there could not be two more different people than Frank Church and former President Lyndon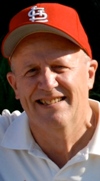 Baines Johnson. Surprisingly, though, there were more similarities than one would think. Both men were terrifically ambitious; both had talented wives who played crucial roles in their success; both could be excellent "stump" speakers; both loved publicity as much as they loved being senators; both relished the give and take of politics; both authored legislation that has touched for the better the lives of millions of Americans past, present and in the future. Most interesting though is both first came to the Senate courtesy of a missing ballot box in a key county controlled by friends of theirs/Chris Carlson, The Carlson Chronicles. More here.
---
---