Fri., Nov. 9, 2012, 10:25 a.m.
CdA Suspect Arrested After Chase
A young man who recently moved to Coeur d'Alene was arrested early today after he allegedly led deputies in a short pursuit while driving a stolen truck that then crashed into a house and caught fire. Michael R.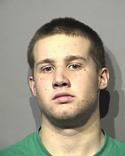 MacKinnon, 19, who recently moved from San Diego, Calif., was booked into the Kootenai County Jail on charges including grand theft, felony eluding and driving under the influence. About 3 a.m. today, sheriff's deputies found a pickup that had been reported stolen a short time earlier from the parking lot of the Target store at Highway 95 and Canfield Avenue. The stolen truck had crashed and been abandoned on Government Way near Wilbur Avenue, the sheriff's office said. Deputies followed footprints in the snow leading away from the stolen truck, then saw a large flatbed truck crash through the gate of Pacific Steel at 7448 N. Aqua Circle/SR. More here.
---
---