Fri., Nov. 9, 2012, 8:17 a.m.
Local Economy Shows Signs Of Uptick
The local economy is creeping, creeping, creeping its way back – back toward some semblance of the good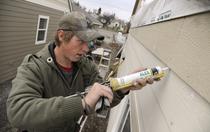 old days of 2007. At this point, any recovery stands in reference to the last high-water mark, and that was five years ago. Before we reach a brighter future, we have to catch up with our brighter past. Grant Forsyth, who has studied the regional economy for more than 13 years as a professor at Eastern Washington University and now as the chief economist for Avista, thinks we might be taking steps that direction. In Spokane and Kootenai counties, his forecasting model suggests, 2013 could be the least lousy year in years/Shawn Vestal, SR. More here. (Colin Mulvany SR photo: Randall Darby, with Cornerstone Siding Division, caulks lap siding on new home construction in Spokane on Thursday.)
Question: Do you think happy days are about here again?
---
---