Fri., Nov. 9, 2012, 1:15 p.m.
Petraeus Quits, Cites Marital Affair
CIA Director David Petraeus resigned Friday, citing an extramarital affair and "extremely poor judgment." As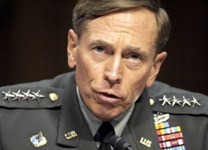 first reported by NBC News, Petraeus disclosed the affair in a letter released to the CIA work force on Friday afternoon, writing: "Such behavior is unacceptable, both as a husband and as the leader of an organization such as ours." Petraeus told President Barack Obama of his affair and offered his resignation during a meeting Thursday, a senior official told NBC News. In a phone call on Friday, Obama accepted the resignation, the official said. Petraeus was appointed CIA director in April 2011, replacing Leon Panetta, who moved to the Pentagon to become defense secretary/Andrea Mitchell & Robert Windrem, NBC News. More here. (AP file photo)
Question: Are you surprised that a marital affair would bring down a man in Petraeus' position in this age and time?
---
---