Fri., Nov. 9, 2012, 11:24 p.m.
Spokane Leader Wants Stud Ban
This would be the last winter you could use studded snow tires if Spokane City Council President Ben Stuckart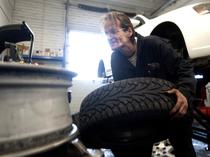 and others have their way. Frustrated with the millions of dollars in damage caused by the metal cleats chewing up pavement, Stuckart is hoping state lawmakers would finally agree to ban studded tires if they knew Eastern Washington's largest city is backing the effort. But if that request falls short, he's hoping to at least persuade them to impose hefty user fees on the tires to help offset the cost of repairing the damage/David Wasson, SR. More here. (Tyler Tjomsland SR photo: Sean Hiyffman swaps regular tires for snow tires on Friday at Tire Rama on Northwest Boulevard in Spokane)
Question: Will you put studded tires on your car this winter?
---
---