Fri., Nov. 9, 2012, 8:51 a.m.
Winter Comes To North Idaho
Before heading to the sack early this morning, Cis/From A Simple Mind reported from Kootenai/Bonner County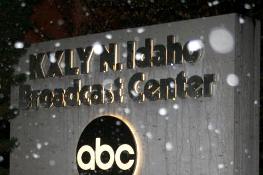 on Facebook: "OK, 3 inches of snow on the ground ... wind blowing ... looks like blizzard out there ... and I'm going to bed and snuggle with Ken and the dog ... and it better be gone off the road by morning!!!!!" Meanwhile, Kerri Thoreson Facebooked: "Work day started at 6 a.m. but my commute consisted of traveling from the bedroom to the kitchen, living room and then down the hall to my home office to do my KVNI Radio thing via phone with Joe Paisley. Watching the sparrows on my windowsill suet feeder with a crackling fire in the fireplace. Counting my blessings." Moi? I had a dental appointment at 7 o'clock at Jim Robson's clinic in Hayden Lake. Roads were fine. (Facebook photo: Kerry Thoreson)
Question: Anyone out there have any trouble dealing with first appreciable snowfall this fall?
---
---