Mon., Nov. 12, 2012, 1:26 p.m.
15 Cartoonists To Attend Boise Event
Fifteen of the nation's top cartoonists, including Tom Richmond of MAD Magazine, Jeff Keane of the Family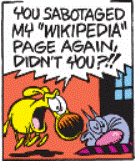 Circus, Mike Peters of Mother Goose and Grimm, Rick Kirkman of Baby Blues, Todd Clark of Lola, Mason Mastroianni of B.C. and more, will be in Boise on Dec. 1 for the "Guardian Ball," a benefit for the Wyakin Warrior Foundation. The Treasure Valley foundation provides intensive services to severely wounded and injured veterans, including education, mentoring, professional development, networking and job placement; the wounded vets get full scholarships to Boise State University and the College of Western Idaho as part of the program/Betsy Russell, Eye on Boise. More here. (Wikipedia photo: Mother Goose & Grimm cartoon panel)
Question: Who do you think is the top cartoonist in the nation?
---
---