Mon., Nov. 12, 2012, 10:25 a.m.
Bedke To Challenge Speaker Denney
House Assistant Majority Leader Scott Bedke (pictured), R-Oakley, publicly announced he is running for speaker of the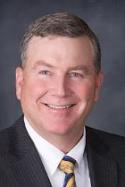 Idaho House. Bedke, who was first elected to the Legislature in 2000, is challenging current House Speaker Lawerence Denney, R-Midvale. Denney has held the position for six years. "It's time for a change," Bedke told the Times-News. Rumors have circulated about the House speaker race for months, with the Idaho Statesman interviewing Denney about his intent to seek another term. Bedke had previously declined to comment. Denney couldn't be reached for comment for this story, but last week he told the Statesman he would campaign aggressively to keep his position/Melissa Davlin, Twin Falls Times-News. More here.
Question: House Speaker Lawerence Denney's abysmal handling of all things related to Artful Tax Dodger Rep. Phil Hart is sound reasoning for electing a new speaker, if nothing else. What do you think?
---
---