MONDAY, NOV. 12, 2012, 8:39 A.M.
Honoring America's Veterans
Every year, Sue Sausser makes it to the Veterans Day ceremony in Coeur d'Alene. And this year, despite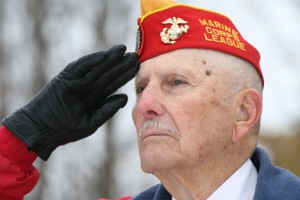 winter-like conditions that saw temperatures in the 20s, icy roads and a biting wind, she made it again. "We have a chance to honor them and see them," the Coeur d'Alene woman said. "I love the salute." Sausser was among about 100 people who came out for the 11 a.m. ceremony on Sunday at Veterans Park. It was bit of a reunion with old friends. "Some faces I recognize from being here every time," she said. The 30-minute event featured the ringing of the bell, spirited singing by Winton Elementary's special chorus, and a short speech by veteran Jack Evensizer/Bill Buley, Coeur d'Alene Press. More here.
Question: Do you have a specific veteran in mind each year when you honor our military veterans?
---
---