MONDAY, NOV. 12, 2012, 8:27 A.M.
Local Dems Analyze Dismal Results
Tables were packed at the Kootenai County Democratic Club meeting on Friday, the conversation jaunty, laughter easy. With an air of finality, Art Collins stood to declare, "Obamacare is here to stay. Whether you like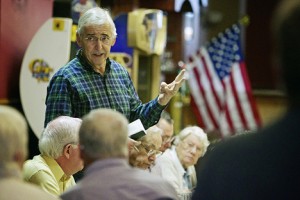 the damn thing or not." But while the blue-leaning individuals were coasting on President Barack Obama's re-election, they had regrets over how their party and its reputation had fared here at home this November. "China had its election at the same time we did. However, they're a one-party system. And Idaho, it's the same. It currently is a one-party system," said President Richard Kohles, pointing to how all local Democrat candidates were easily defeated by Republican opponents. "It's our obligation to turn that around, so there are two voices. Not so they're screaming at each other, but at least talking to each other"/Alecia Warren, Coeur d'Alene Press. More here. (Former Rep. George Sayler talks to Democratic Club luncheon)
Question: I have one idea that should work to get local Democrats back in the game. Study what the Reagan Republicans have done to make their splinter GOP group effective. Organize. Work mailing lists. And become involved in nonpartisan races, as they're accused of doing. What do you think?
---
---