Blanchette: How Good Are The Zags?
Good thing ESPN set aside 24 hours for its Tip-Off Marathon that started Monday night at Gonzaga's rollicking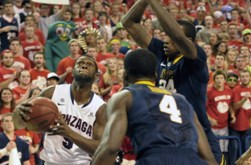 Kennel. West Virginia needed nearly that long to make a shot. Does Spokane's new single-stream recycling program take bent rims and cracked backboard glass? How would a club pro help a 3-point shooter with a slice? Is it possible that Mountaineers coach Bob Huggins actually went out and restocked his team with worse marksmen than he had a year ago? All good questions, but not nearly as intriguing as this: Just how far will the Zags take their peeps in 2013?/John Blanchette, SR. More here. (Jed Conklin AP photo: Zag Gary Bell vs. West Virginia)
Question: How good do you think the 2012-13 Gonzaga Bulldogs are?
---
---