Tue., Nov. 13, 2012, 12:10 p.m.
Joker: It's All A Big Conspiracy
Joker comments:
We are going to find out that Petraeus had his hands on Obama's Kenyan birth certificate and he was going to release it to Donald Trump. Obama found out about the plan and the president hired high-priced escorts (from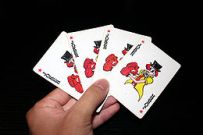 Colombia) to seduce the CIA director and frame him as part of an elaborate blackmail scheme. But Petraeus' real gal pal interfered with some threatening emails to the escorts, who then ran to the FBI. Then the US ambassador in Libya heard about the sordid plot against Petraeus and was about to hold a press conference in Benghazi. Unfortunately for him, Obama ordered his muslim brothers to execute the ambassador — which they did. It was all covered up so that Obama could win re-election in order to put us in socialist prisons, take away our guns and ban the Bible. Oh yeah, he's going to make white people slaves as an elaborate revenge scheme. I can be paid in gold pieces for uncovering the awful truth.
Question: Do you have a better conspiracy theory?
---
---