Tue., Nov. 13, 2012, 2:27 p.m.
Obama Hater Runs Over Hubby
An Arizona woman was so enraged over her husband's failure to vote in last week's presidential race —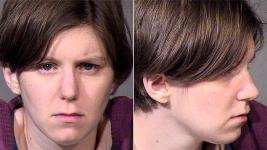 essentially blaming him for President Obama's re-election — that cops claim she mowed him down with her car. Holly Solomon, 28, was cuffed after allegedly injuring her husband, Daniel Solomon, 36, with her Jeep in a Gilbert parking lot Saturday morning, the Arizona Republic reported Monday. Daniel Solomon told investigators that his wife "just hated Obama," according to local ABC affiliate KNXV. A Gilbert police spokesman said she "believed her family was going to have hardship" under a second Obama term. Although GOP challenger Mitt Romney failed to win key swing states in the election, he still earned Arizona's 11 electoral votes/New York Daily News. More here. (Maricopa County Sheriff's Department booking photo of Holly Solomon)
Question: On Twitter, Editorial Board colleague Gary Crooks wonders if this woman understands the Electoral College concept. Do you get miffed when friends/loved ones fail to vote?
---
---