Tue., Nov. 13, 2012, 10:22 a.m.
Solon Asks For Pay In Gold, Silver
State Rep. Jerry O'Neil, R-Columbia Falls, is spooked enough about the country's fiscal picture to request that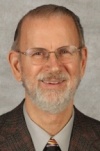 his legislative pay come in the form of gold and silver coins. In a letter sent to Montana Legislative Services this week, O'Neil cites Article 1, Section 10 of the U.S. Constitution, which states in part that no state shall "make anything but gold and silver coin a tender in payment of debts." He said that in his 10 years as a legislator, he considered it a "trivial matter" and he "did not want to be branded as a fanatic over an issue of no consequence." But now he says he is looking at the value of the dollar "in a new light"/Jim Mann, Daily Inter Lake. More here. (Ballotpedia photo of Rep. Jerry O'Neil)
Question: Is Rep. Jerry O'Neill acting wisely by requesting that he be paid in gold or silver?
---
---