TUESDAY, NOV. 13, 2012, 5:02 P.M.
Tased Bicyclist Faces Trial Friday
Robert Peterson, the man tased in the Kootenai County Courthouse in August, is heading to trial Friday, and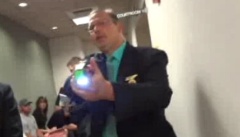 said the video he shot without the court's approval will clear his name. Peterson is charged with three counts of battery and one count of contempt of court but is confident video from his camera of the tasing will prove that he's is innocent. He's been out on bail for a few weeks now and is confidant things will go his way. Back in August, Peterson walked into the Kootenai County Courthouse with his camera on. He was there to attend a hearing for riding a bike at night without a light. In Idaho however, you have to get permission from a judge before rolling. Peterson didn't have that/Anusha Roy, KXLY. More here. (KXLY photo)
Question: And this all began with a man riding a bike at night without a light? Thoughts?
---
---