A World Without Twinkies?
The day could soon come when there won't be any more Twinkies or Hostess Cupcakes. After the maker of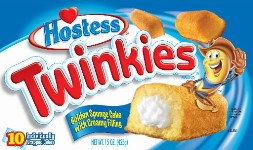 the delicious, demonized snack cakes filed for Chapter 11 bankruptcy in January, conditions have allegedly become so much worse for workers at Hostess plants across the U.S. that more than 6,500 members of the bakers union, including around 70 in Oakland, have gone on strike. Company spokesperson Lance Ignon told KTVU that if the strike continues, Hostess could be "facing the liquidation of the entire company in a matter of days, not weeks"/Anna Roth, SF Weekly Blogs. More here. (AP file photo)
Question: I haven't eaten a Twinkie or Hostess Cupcake in forever. And I still think they're among the greatest treats ever made. Can you think of anything better?
---
---