Wed., Nov. 14, 2012, 8:16 a.m.
Dan English Comes Home To CASA
Dan English sat in his new office on Fourth Street Tuesday and smiled. Animal characters from children's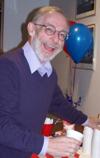 book author Richard Scarry's "Busytown" careen around the fabric of a colorful quilt adorning one of the office's walls. The blanket was crafted years ago, by English's wife. The former Kootenai County Clerk is the new executive director of North Idaho CASA (Court Appointed Special Advocates), a job he stepped into in mid-October. "This is all a bit of a coming home for me," English said. Long before English's 15-year stint as county clerk began in 1995, he was doing the kind of work CASA is all about/Maureen Dolan, Coeur d'Alene Press. More here.
Question: Does this mean that Dan English is not Dan of the CASA?
---
---