Wed., Nov. 14, 2012, 10:56 a.m.
Fort Boise: No Means No
The Atlanta Journal-Constitution picked up John Miller's AP story about Idaho's post-election education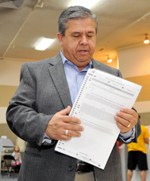 kerfuffle, where the top story seems to be the incredible density of our Superintendent of Public Instruction. Give him credit for recognizing that "union thugs" wasn't the best angle. That must have come as a surprise, given how durable an element of politics it's been in the state, and was definitely the drum co-loser Frank VanderSloot was thumping in his full-page advertorials before the election. Wondering what went wrong (and not accepting "everything" for an answer), Tom Luna says he should have cut his meat into smaller portions. Had his comprehensive corporatization of public education comprised "a couple dozen bills" they would have been harder to shoot down/Fort Boise. More here. (AP file photo: Luna votes inside the Nampa Church of the Nazarene)
Question: Are there parts of the Luna Laws propositions you'd like to see resurrected for consideration by the 2013 Idaho Legislature?
---
---