Wed., Nov. 14, 2012, 5 p.m.
Romney Blames Loss On Obama Gifts
A week after losing the election to President Obama, Mitt Romney blamed his overwhelming electoral loss on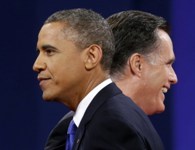 what he said were big "gifts" that the president had bestowed on loyal Democratic constituencies, including young voters, African-Americans and Hispanics. In a conference call on Wednesday afternoon with his national finance committee, Mr. Romney said that the president had followed the "old playbook" of wooing specific interest groups — "especially the African-American community, the Hispanic community and young people," Mr. Romney explained — with targeted gifts and initiatives. "In each case they were very generous in what they gave to those groups," Mr. Romney said/Ashley Parker, New York Times The Caucus Blog. More here. (AP file photo after last presidential debate)
Question: What gift did President Obama give you to vote for him?
---
---