Wed., Nov. 14, 2012, 2:30 p.m.
Why Does NIC Have Cardinal Mascot?
Maybe lots of people know the answer. But I don't. Why is "Cardinals" the sports nickname for North Idaho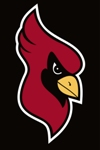 College athletics even though we don't have the red birds here? I suppose I could bestir myself to look into this on my own. But last time I did that — re: same question and the Medical Lake High School Cardinals — it turned into a time-sucking black hole. And all I ended up finding out is that, long ago, a teacher who had moved here from back East suggested "Cardinals"/Paul Turner, The Slice blog. More here.
Question: Can Don Sausser or any other NIC Cardinal fans out there answer Paul's question?
---
---