Thu., Nov. 15, 2012, 9:04 a.m.
CHS Viks Eye 3rd Straight Title
The Coeur d'Alene football team will try to do something Friday that's never been done in the 5A ranks – become the first school to capture three straight state championships. That was certainly the goal when the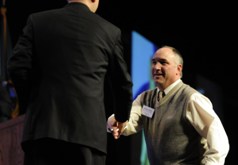 season started – even if more than half of the Vikings' starters were going to be juniors and first-year varsity players. The Vikings suffered some serious growing pains midway through the season. Those came in a 71-20 beatdown by Washington's No. 1-ranked 4A team, Skyline of Sammamish, snapping CdA's 24-game winning streak, and it was followed by an even more embarrassing – at least based on effort and execution – loss to Highland the following week/Greg Lee, SR. More here. (SR file photo: Coach Shawn Amost of the Coeur d'Alene Vikings football team receives his Coach of the Year award at the Sportswriters and Broadcasters luncheon last Feb. 15.)
Question: Was your high school football team very good?
---
---