Thu., Nov. 15, 2012, 11:25 a.m.
Idaho, Washington Diabetes Rate 2X
The nation's diabetes problem is getting worse, and the biggest jump over 15 years was in Oklahoma,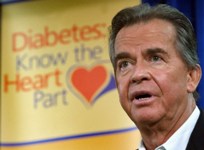 according to a new federal report issued today. The diabetes rate in Oklahoma more than tripled, and Kentucky, Georgia and Alabama also saw dramatic increases since 1995, the study showed. The South's growing weight problem is the main explanation, said Linda Geiss, lead author of the report by the Centers for Disease Control and Prevention study. ... Several Northern states saw rates more than double, too, including Washington, Idaho, Montana, Wyoming, South Dakota, Minnesota, Missouri, Ohio and Maine/Associated Press. More here. (2004 AP file photo of "American Bandstand's" Dick Clark speaking about diabetes in Tampa, Fla.)
Question: Does your family have a history of diabetes problems?
---
---