Thu., Nov. 15, 2012, 11:12 a.m.
Ron Paul Goes Out Guns Ablazin'
Who says you have to make nice at the end? Retiring Texan Congressman Ron Paul, libertarian bulwark and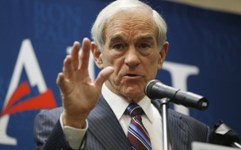 three-time presidential candidate, gave a lengthy, rambling farewell address to his colleagues on the House floor Wednesday, in which he slammed American government and politicians for failing to live up to the Founding Fathers' principles. "Our Constitution, which was intended to limit government power and abuse, has failed," the 77-year-old Paul said. "The Founders warned that a free society depends on a virtuous and moral people. The current crisis reflects that their concerns were justified"/UPI.com. More here. (AP file photo)
Question: Do we still have some Ron Paulers out there?
---
---