Thu., Nov. 15, 2012, 9:13 a.m.
Soldier Uses Doodey To Explain Work
When Army Sgt. Joe Wardell learned he was going to be deployed to Afghanistan for a year, he wondered how to explain his absence to his 3-year-old son, Clive. He started by drawing a map of the world on his dining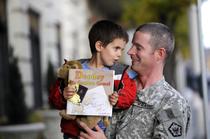 room wall. Wardell told his son that Daddy would be flying over the big water to a place called Afghanistan. "I want to go with you," Clive insisted. And that's when Doodey came to the rescue. Doodey is a stuffed camel Wardell bought for Clive at Point Defiance Zoo in Tacoma. "I got the idea to take the camel with me and take pictures of Doodey and me"/Cindy Hval, SR Washington Voices. More here. (SR photo: Joe Wardell holds his son, Clive, who holds the book Wardell wrote for him to explain to his son what he did in Afghanistan during his deployment.)
Question: Have you ever had to be away from your family for an extended period?
---
---