Fri., Nov. 16, 2012, 2:59 p.m.
Mansfield: A Nation Unable To Blush
As I listen to talk show hosts and guests saying that Gen. Petraeus should not have been "forced" to resign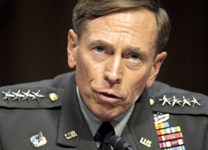 his prestigious post as CIA Director because "what a person does in private has no bearing on one's public life", they fail to grasp the two key reasons why he left. First, he chose to leave. There is no conspiracy. No Obama-controlled manipulation. David Petraeus resigned on his own initiative. He admitted he was wrong in what he did. Second, he resigned because he DOES have character. His three-word motto of Duty-Honor-Country would not allow him to remain. He knew he HAD to leave. That's what men and women of character do when they fail/Dennis Mansfield. More here. (AP file photo)
Question: Do you agree with Dennis Mansfield that the voluntary resignation of General David Petraeus was an act of character?
---
---