Fri., Nov. 16, 2012, 1:09 p.m.
Obama Favorables At 3-Year High
President Obama's favorability has jumped to a three-year high in the week following his reelection, with 58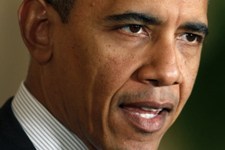 percent of Americans now saying they have a positive opinion of the president. The number represents a three-point improvement for the president since a similar survey conducted by Gallup in the days immediately preceding last week's presidential election. And it is Obama's highest mark since July 2009, when two-thirds of respondents said they had a favorable opinion of the president. Obama's all-time high point was a 78 percent favorability rating shortly after his inauguration in January 2009/Justin Sink, The Hill. More here. (AP file photo)
Question: Do you have a more/less favorable view of President Obama today than you did four years ago?
---
---