FRIDAY, NOV. 16, 2012, 9:17 A.M.
Tea Party Still Fights Obamacare
In a Nov. 12 letter released Friday as an "Open Letter to the Governor," Tea Party Boise President Chad Inman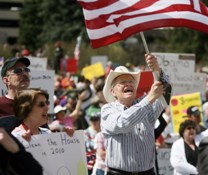 quotes Gov. Butch Otter's own words in arguing against a state-run exchange under the Patient Protection and Affordable Care Act, or Obamacare. Inman's letter includes part of Otter's foreward in one edition of the late LDS President and U.S. Agriculture Secretary Ezra Taft Benson's booklet, "The Proper Role of Government," which Otter often gives to guests visiting his office. Wrote Otter: "Politicians, bureaucrats and judges in all branches and at all levels of government are using the law to accomplish incrementally the very ends that our form of government was created to prevent"/Dan Popkey, Idaho Statesman. More here. (Shawn Raaecke Idaho Statesman file photo of 2010 Tea Party Boise rally)
Question: Has the Tea Party overstayed its welcome in Idaho?
---
---