Fri., Nov. 16, 2012, 8:32 a.m.
Twilight Saga Coming To An End
As the Twilight era was moving quickly toward closure Thursday evening, no one was brooding at the Hayden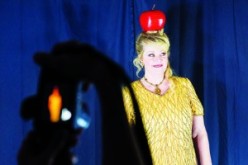 Cinema 6. A flock of fans gathered in the movie theater's lobby for a private VIP party, a last celebration of all things Twilight before the 10 p.m. screening of "The Twilight Saga: Breaking Dawn - Part 2," the fifth and final installment of the wildly popular series featuring otherworldly romance and rivalries. Party guests danced and played games as they prepared to bid adieu to Edward, Bella, Jacob and the rest of the Twilight gang. For some, it was a bittersweet send-off. "It's been kind of a big part of our lives," said Lucy Miller/Maureen Dolan, Coeur d'Alene Press. More here. (Shawn Gust Coeur d'Alene Press photo: Tami Hern, organizer of the sneak peek screening of "Twilight" balances a fake apple on her head in a photo booth)
Question: Are you going to miss Edward, Bella & Jacob?
---
---