Fri., Nov. 16, 2012, 2:38 p.m.
WSU Sorority Target Of Orange Mess
Residents of a Washington State University sorority have awakened to find a pulpy mess at their backdoor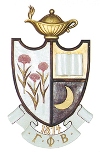 several times over the past month. About a month ago, someone started throwing oranges at the Gamma Phi Beta sorority, located at 600 NE Campus Road, says chapter president, Nikki Taplin. The half-dozen or so incidents have been reported to Pullman police. Taplin says they have never seen the perpetrators, but she believes about 10 to 15 oranges are thrown at close range each time. "At first I thought it was just a bunch of garbage - but it seems intentional," Taplin said. "We wake up in the morning and they're just outside our door and our door is covered in pulp"/Nicole Hensley, SR. More here.
Question: Did you pull any pranks in your college years that could have gotten you in trouble. Care to tell us about it?
---
---