Mon., Nov. 19, 2012, 9 a.m.
College Drinking Taking Deadly Turn
Washington State University freshman Kenneth Hummel's death last month brought the issue of alcohol abuse on college campuses back into the spotlight. The student had a blood alcohol level of 0.40 when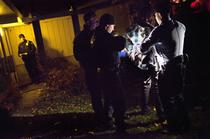 he died. But the weekend before Hummel died, three WSU students ended up in the hospital because of overdrinking, said Cassandra Nichols, the university's director of counseling services. Pullman Regional Hospital has seen four patients since August whose alcohol poisoning was so severe that they "needed life support because they drank too much, and that is rare," said Alison Weigley, community relations coordinator. "Typically we might have one, maybe two in a year"/Jody Lawrence Turner, SR. More here. (Tyler Tjomsland SR photo: Officer Ruben Harris, second from right, handcuffs a highly intoxicated man who was arrested for trespassing on private property on Nov. 10 during a patrol of College Hill in Pullman)
Question: Looking back, can you remember times in your college days when you probably drank way too much?
---
---