Mon., Nov. 19, 2012, 11:29 a.m.
Edit: Butch's Legacy Is Awfully Thin
Idaho Gov. C.L. (Butch) Otter has six years in office under his belt and two more to go. But what does he have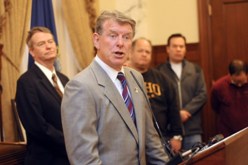 to show for it? To say he has the thinnest legacy since Gov. (Big) Don Samuelson would be taking an unfair poke at Samuelson. Idaho's 25th governor, Samuelson served from 1967 to 1971. He generally rates near the least successful governors. He was a terrible public speaker. He suffered comparisons to his predecessor, Robert Smylie, and his successor, Cecil Andrus. And the voters denied him a second term. By contrast, Otter is an exceptional retail politician who has won three terms in Congress, two as governor and could have a third for the asking. But in terms of governing, Samuelson's record is not insignificant/Marty Trillhaase, Lewiston Tribune. More here. (AP file photo of Butch Otter at the end of 2012 Legislature)
Question: What has Butch Otter accomplished in his 6 years as governor?
---
---