Mon., Nov. 19, 2012, 5:28 p.m.
Homeschooling Isn't For Faint Hearted
There are many reasons why people decide to start homeschooling their kids. But what prompts a family to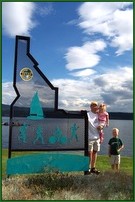 stop homeschooling? Last summer some friends of ours decided to pull their two boys out of public school because they were frustrated with the quality of teaching and worried about the negative influences of certain bullies on the playground. The parents were enthusiastic about homeschooling and the possibilities for learning. I warned the mom, who would be the primary teacher, that the first year was a tough time of adjustment to a new and very busy schedule. She had it under control, she told me. She was organized and ready. Within the first month she voiced her first minor complaint to us/Idaho Dad, A Family Runs Through It. More here.
Question: Do you know people who have tried and then quit home-schooling their children?
---
---