Mon., Nov. 19, 2012, 8:16 a.m.
Hucks: Wallace Poems Harken Back
A book of poetry about "Wallace, Idaho," that recalls the bygone houses of prostitution begs reading: "Every 12-year-old charged/with selling something to benefit anything/knew like the Lord's Prayer/the first steps you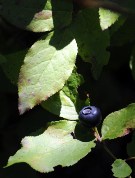 climbed led to brothel doors." Whidbey Island, Wash., poet Linda (Hall) Beeman wrote those lines in "Hook Houses." In a telephone interview, she told Huckleberries that she didn't visit the Oasis, Lux and Sahara to sell school candy while growing up in Wallace, 1952-'65. But a classmate named Bruce did. Beeman was inspired to celebrate Wallace in rhyme after returning to her hometown for the centennial of the August 1910 fire. "That set off a series of memories and flashbacks. It flowed pretty naturally," she said. Late mining magnate Harry Magnuson earned an entry: "His accounting and penny stock savvy/build inroads and a fortune." And "Miners," she wrote, "unhinge me/their raw edginess a glimpse into hot dark underground." Linda penned poems about the 1972 mining disaster, the 1910 fire, I-90 and the Cataldo Mission, too/DFO, SR Huckleberries. More here.
More weekend SR columns:
Question: Do you read poetry?
---
---