Tue., Nov. 20, 2012, 9:11 a.m.
Blanchette: What If Price had Stayed?
When the old Pacific-10 Conference held its annual football media briefing and cocktail-a-thon in the summer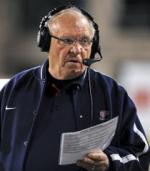 of 1992, Mike Price (shown in AP file photo) wandered into the hospitality room, poured two glasses of wine, handed one to a Washington State beat reporter of that era and delivered the greatest conversation icebreaker in coach-and-writer history: "So," he asked, "are they going to fire my ass?" Price's Cougars teams had lost 19 of their last 26 games at that point. That he hadn't been fired already says a lot about how the school has traditionally finessed its ante into the no-limit game of college football, and probably a little about how Price had already become part of the Wazzu furniture, too/John Blanchette, SR. More here.
Question: Do you follow Washington State sports?
---
---