Tue., Nov. 20, 2012, 9:13 a.m.
Fallen Spokane Soldier Returns Home
Monday's melancholy weather matched the mood at a private air hangar at Spokane International Airport as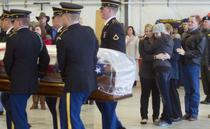 family and local military welcomed home the body of U.S. Army Staff Sgt. Matthew H. Stiltz. The 26-year-old infantryman died last week from wounds suffered when insurgents attacked his unit with artillery fire in Zerok, a town in eastern Afghanistan. The Shadle Park High School graduate, who joined the Army in 2005, was on a tour in Afghanistan after serving two tours in Iraq. "He's come home and will be buried here in hallowed ground," said Brian Newberry, Fairchild Air Force Base wing commander. Members of the U.S. Air Force base were there to make sure the family's needs were met, said Staff Sgt. Michael J. Means/Jody Lawrence-Turner, SR. More here. (SR photo: Colin Mulvany)
Question: I hate these stories of fallen men and women of our military coming back to grieving families, in an effort to protect crazies from killing other crazies in the Middle East. It's past time to quit feeding our young people into the meat grinder in hostile countries that have no use for us. What do you think?
---
---