Tue., Nov. 20, 2012, 3:54 p.m.
Idaho Dad: Don't Fear The Teacher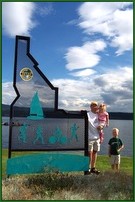 When my son was learning to ride his bike, he was afraid of falling down and getting hurt. So I always made sure to run along with him while he was figuring out how to do all those complicated bike things at the same time, like pedaling, steering, braking, and balancing. I never let him fall. A dad I know scolded me. He said, "You have to fall down and get hurt to learn to ride a bike." This is the same dad who also once told me, "Bullying is good for your kids. It toughens them up for the real world"/Idaho Dad, A Family Runs Through It. More here.
Questions: Do children need fear and suffering, at times, to learn lessons?
---
---