Tue., Nov. 20, 2012, 1:15 p.m.
Montana AP: We Aren't Birthers
The Independent Record made a small but damaging alteration to Sunday's Associated Press story about the president's trip to Asia, and the change needs to be noted. Otherwise, your readers might make the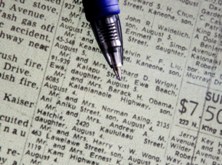 embarrassing assumption that the AP has joined the birthers. As a retired AP staffer of 38 years, the last 28 in the Helena bureau, I regret the unjustified ridicule that your readers may mistakenly aim at the AP. The violence was done by adding a single word to Jim Kuhnhenn's article from Washington about the President's trip to Asia. It appeared in this paragraph: "The Asia trip underscores Obama's efforts to establish the United states as an Asia-Pacific power, a worldview defined by 21st century geopolitics but also by Obama's personal identity as America's first Pacific president. Obama was allegedly born in Hawaii." The word "allegedly" was edited into the story by the IR. The AP has assured me it did not appear in the story as written and transmitted/Tom Laceky, Helena Independent-Record. More here. (AP file photo of announcement in Honolulu Star Bulletin of President Barack Obama's birth in August 1961)
Question: I almost hate to ask, but ... are there any birthers remaining out there?
---
---